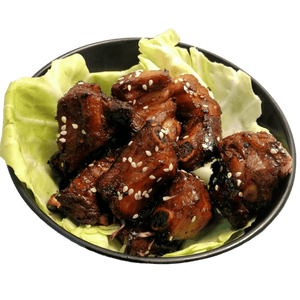 These oven-baked rib tips are a perfect meaty appetizer or as part of a main dish. They are covered in a not so traditional, yet flavorful ginger teriyaki sauce that should take care of your sweet/savory cravings.
Gluten-Free. 
Ingredients: Pork short rib tips, teriyaki sauce, soya sauce, ginger, brown sugar, garlic, black pepper and sesame seeds. 
Cooking Instructions: Bake in oven on 350 degrees for 20 minutes, stirring periodically to coat in sauce.