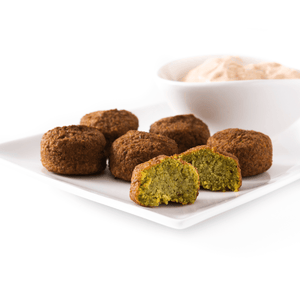 These light, crispy falafels are moist on the inside and packed with herby aromas. No one will know that they are secretly healthy and gluten-free too! They are freezable, making them perfect for meal prep and they pair well with our salads.
Vegan. Gluten-Free. 
Ingredients: Chickpeas, parley, onion, garlic, salt and pepper. 
Baking Instructions: Set oven to 350 degrees Fahrenheit. Put frozen falafel on an un-greased baking sheet. Set the baking sheet in the preheated oven. Cook for 6-7 minutes. Flip each falafel and cook for additional 6-7 minutes.